Team
Trompouki Lab
Group Leader Eirini Trompouki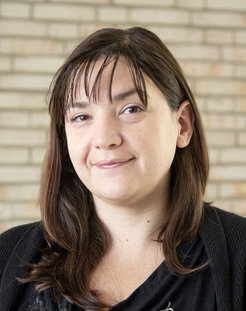 Eirini studied Biology at the National and Kapodistrian University of Athens. Shen then performed her graduate studies in Biomedical Sciences Research Center "Al. Fleming" and the Medical School of the National and Kapodistrian University of Athens. In the lab of George Mosialos, Eirini studied the molecular underpinnings of NF-κB signaling and discovered new molecules that play fundamental roles in this pathway.
Later she did her postdoctoral studies in Leonard Zon's lab at Boston Children's Hospital. She studied how lineage-specific and signal-induced transcription factors synergize in hematopoietic differentiation and regeneration. This synergism fundamentally revealed how signal-induced transcription factors could exert tissue-specific functions.
In her own group Eirini focused on fundamental aspects of hematopoietic stem cell decisions from development to adulthood and disease. In 2019 she was awarded the Junior Faculty excellence award from the Zebrafish Disease Models Society. Eirini promotes diversity and inclusion and wants her lab members to be motivated and happy.
Starting 2022, Eirini Trompouki is Research Group leader at IRCAN-Institute for research on Cancer and Aging, Nice, France.
Qualifications and history
Undergraduate studies in School of Biology-National and Kapodistrian University of Athens, Greece
2002-2006 PhD studies in PhD studies in Molecular Biology at the Biomedial Science Research Center "Alexander Fleming", Vari, Greece and the National and Kapodistrian University of Athens, Medical School, Athens, Greece
2006-2007
Postdoctoral fellow at the BSRC Alexander Fleming, Vari, Greece
2007-2013 Postodoctoral studies at Boston Children's Hospital, Harvard Medical School, Boston, USA,
2013-2022 Group leader at the Max Planck Institute of Immunobiology and Epigenetics, Freiburg, Germany
Alumnae & Alumni
Name
Position
Current Affiliation
Indré Piragyté Langa-Oliva
PhD student
University of Bern, Switzerland
Pia Prater
PhD student
Agendix, Dresden, Germany
Aikaterini Polyzou
PhD student
National & Kapodistrian University of Athens,
Greece
Carolina Jerez Longres
Intern
University of Freiburg
Ulf Guesndisch
Intern
ETH Zurich, Switzerland
Franziska Rathmann
M.Sc.
Ulm University, Germany
Sofoklis Trigkas Chantziandreou
M.Sc.
Natalia-Adriana Martagon-Calderón
Intern
Na Yin
Lab Manager
Icahn School of Medicine at Mount Sinai,
New York City, USA
Lhéanna Klaeylé
Research Technician
Idorsia, Allschwil, Switzerland
Stylianos Lefkopoulos
PhD student & Postdoc
Associate Editor at Nature Cell Biology