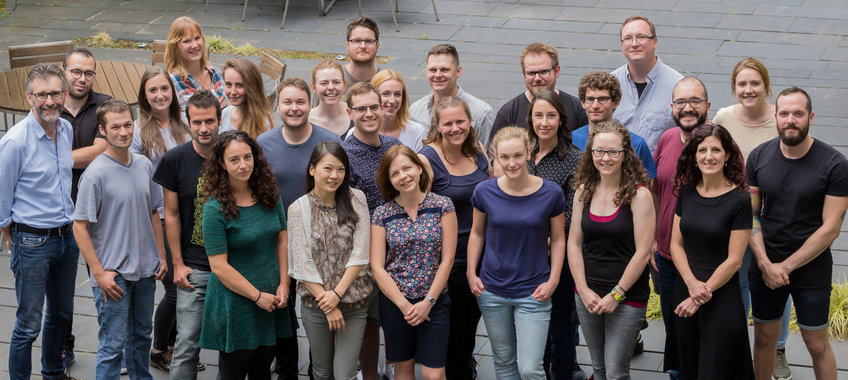 Team
Lab Pearce
Group Leader Erika Pearce
Erika Pearce was born in the USA and studied biology at Cornell University (NY). Erika Pearce obtained her Ph.D. in Cell and Molecular Biology in 2005 at the University of Pennsylvania in Philadelphia, where she studied the regulation of T cell responses during infection. Erika Pearce completed her postdoctoral research at the University of Pennsylvania, where she also began to study how cellular metabolic processes govern immune responses to infection and cancer.
In 2009, she launched her independent career, and after holding faculty positions at the Trudeau Institute and Washington University School of Medicine in St. Louis (MO), she was appointed Max Planck Director at the MPI of Immunobiology and Epigenetics in Freiburg in 2015. In 2018, Erika Pearce received the Leibniz Preis by the German Research Foundation (DFG) for her work on immunometabolism and in 2020 the Biosciences Investigator Award by the American Association of Immunologists (AAI).
In 2021, she became Bloomberg Distinguished Professor at the Johns Hopkins University and Scientific Director of the Bloomberg-Kimmel Institute for Cancer Immunotherapy in Baltimore.
Qualifications and history
1972 Born in East Marion (NY), undergraduate studies of biology at Cornell University, Ithaca, USA
2001-2005 PhD studies in cellular and molecular biology at the University of Pennsylvania, Philadelphia, USA
2006-2009 Postdoctoral Fellow at the University of Pennsylvania, Philadelphia, USA
2009-2011 Assistant Member at Trudeau Institute, Saranac Lake (NY), USA
2011-2015 Professor of pathology and immunology at the Washington University School of Medicine, Saint Louis (MO), USA
2015-2020 Senior Group Leader and Director at the Max Planck Institute of Immunobiology and Epigenetics, Freiburg, Germany
Since 2021 Senior Group Leader at the Max Planck Institute of Immunobiology and Epigenetics, Freiburg, Germany and Bloomberg Distinguished Professor at the Johns Hopkins University and Scientific Director of the Bloomberg-Kimmel Institute for Cancer Immunotherapy in Baltimore (MD), USA
Team