Laboratory Animal Facility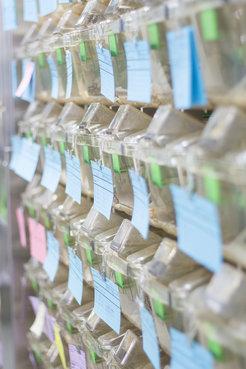 With a constant and decisive move towards highly educated and motivated staff, the animal facility maintains a basic breeding and husbandry service for more than 450 genetically modified and 20 wild type mouse strains.
The animals are kept either in high barrier (SPF – specified pathogen free) areas with restricted access for animal care staff only or in low barrier (conventional) areas with additional access for licensed scientists. In addition, intensively trained and skilled animal care staff handle immunodefficient and germ-free mice in isolator units and thus ensure optimal animal care and research conditions.
By using various layers of physical barriers and standard operating protocols, we are strongly committed to the well-being and health of our animal colonies. In both barrier systems, we offer IVC (in- dividually ventilated caging) and open caging depending on the need of the scientist and the room quality.