Team
Lab Pichler
Group Leader Andrea Pichler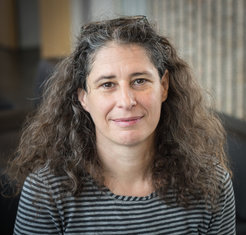 PD Dr. Andrea Pichler graduated in molecular biology from the University of Vienna (Austria) in 1998 followed by a doctorate on "Regulation of bcl-2" at the University of Vienna in cooperation with the Novartis Forschungsinstitut, Vienna.
After a short postdoc at the Novartis Research Institute, she moved to the Max Planck Institute of Biochemistry in Munich (Germany) in 2000, where she started her work on sumoylation in the laboratory of Dr. Frauke Melchior. During this time, she discovered RanBP2 as a SUMO E3 ligase and biochemically characterized its mode of action. In 2006, she returned to Vienna and established her own research group at Max F. Perutz Laboratories, mainly focusing on E2 regulation via sumoylation.
In 2010, she habilitated at the University of Vienna and moved to the Max Planck Institute of Immunobiology and Epigenetics in Freiburg (Germany) as a group leader. There, her lab studies the regulation of SUMO conjugation by E3 ligases and Ubc9 sumoylation, as well as mechanisms of SUMO chain formation. In 2015, her lab described a novel class of SUMO E3 ligases, the ZNF451 family.
Andrea Pichler holds a position as Senior Scientist / Independent Group Leader at the Institute of Biochemistry, ETH Zurich. She is affiliated with Max Planck project support to the laboratory of Prof. Matthias Peter.
Qualifications and history
1966 Born in St. Pölten, Austria; Undergraduate studies in Biology at University of Vienna, Austria
1998 PhD studies at University of Vienna, Austria
1998-2005 Postdoctoral fellow at the Novartis Research Institute, Vienna, Austria, at the Max Planck Institute of Biochemistry, Munich and at the University of Göttingen, Germany
2006-2009 Independent Project Leader at the Max F. Perutz Laboratories, Vienna, Austria
2010 Venia docendi in Biochemistry and Molecular Biology at the University of Vienna, Austria.
2010-2022 Group Leader at the Max Planck Institute of Immunobiology and Epigenetics, Freiburg, Germany
since 2022 Group Leader ETH Zurich, Switzerland
Team