Directions
How to get to here
Freiburg is located in the extreme south-west of Germany close to the French and Swiss borders. The Max Planck Institute of Immunobiology and Epigenetics is situated in the northern part of Freiburg, a 10 minutes drive from Freiburg main station.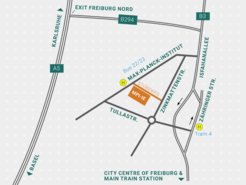 By public transport
Trams and busses from main train station
You find the tramway station at the south end of the main train station (signposted). Use tram no. 4 to "Zähringen" to get to the MPI-IE. Get off at stop "Tullastraße" (8 stops). Walk along the "Tullastraße" until "Zinkmattenstraße" (first exit at the roundabout) and follow this street until "Stübeweg" on your left. You find the MPI-IE on the left side (overall a 15-20 min walk). Please use the website of the public transportation service VAG in Freiburg for further information.
Alternatively, you can use busses from the ZOB (central bus station) next to the main train station:
7200 (direction "Emmendingen Bahnhof"),
7206 (direction "Elzach")
7209 (direction "Denzlingen Bahnhof")
Get off at stop "Max-Planck-Institut" (approx. 15 min ride). The bus stop is located next to the corner of Hans-Bunte-Straße and Stübeweg on the left. The MPI-IE is on the right hand side of Stübeweg (2 min walk). For further information about departure times, please use the bus schedule by NVBW.
By airplane
Basel EuroAirport (about 75 km), Strasbourg International Airport (about 90 km), Zurich Airport (about 150 km), and Frankfurt International Airport (about 260 km) are most important and closest airports to Freiburg. Frankfurt and Zurich airports will be the airports of choice for most international and US flights. You can fly cheaply with one of the budget airlines to German and European destinations from the airports in Basel, Karlsruhe/Baden-Baden or Stuttgart.
Note: Whether or not you use an airport bus or train connection to reach Freiburg, you will most likely end up at Freiburg Hauptbahnhof (main station), i.e., central bus station (ZOB) located in the city center. See above for more information on reaching the Institute from the main train station via public transport.
There are taxis available outside Freiburg main station or can be booked by phone using +49 761 55 55 55. The journey to the MPI-IE from the train station/city center takes about 10 minutes and costs between EUR 10,- and 15,-.
By car
From Karlsruhe/Frankfurt
If you arrive via freeway A5, Karlsruhe to Basel, take the exit 61 for "Freiburg Nord". Keep in the left lane and take highway B294 towards Freiburg. After approximately 3.5km highway B294 runs into highway B3 towards Freiburg. Take the exit for "Industriegebiet Nord" and keep in the left lane. Turn left at the traffic light into "Hans-Bunte-Straße". Finally turn left again into "Stübeweg". The MPI-IE is on your right.
From Basel:
If you arrive via freeway A5 from Basel to Karlsruhe/Frankfurt take exit 62 for "Freiburg-Mitte" toward Freiburg/Donaueschingen/Titisee-Neustadt. Merge onto B31a. Take the exit toward FR-Landwasser/FR-Betzenhausen/Messe/IKEA. Merge onto Paduaallee and continue onto Granadaallee and Lembergallee for about 4km. Turn right into "Tullastraße" and continue for 1km. Now turn left into "Hans-Bunte-Straße". Take the first right onto Stübeweg. The Institute is on your right side.