Transgenic Mouse Core Facility
It has taken us millions of years to discover that the genome can be artificially challenged but in comparison only a few years to develop and refine the necessary methods for manipulating this. Transgenic technology has widely been recognized as a powerful tool for analysis of in vivo gene function and generation of animal models for the advance of science and human health. The mouse is the best choice of intact organism for modelling genetically linked human diseases. Such models have considerably assisted in studying the complexities of mammalian development and cell differentiation.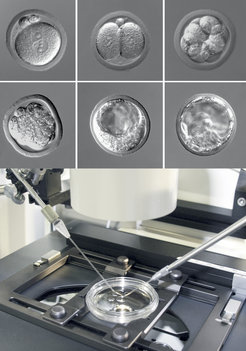 The Transgenic Mouse Core Facility (TMCF) strives to provide high-quality, cutting edge transgenic and assisted reproduction technologies, in both, a time-effective and cost-efficient manner. We provide investigators with novel mouse lines generated either by transgenesis (via pronuclear/cytoplasmic microinjection of specific DNA constructs into fertilized oocytes) or targeted mutagenesis (via microinjection of embryonic stem (ES) cells into blastocysts or 8-cell stage embryos, as well as, via various CRISPR/Cas9 approaches), e.g. "knockouts", conditional mutants or gene-edited animals. Standard assisted reproduction technology services include IVF, embryo transfer, import/export of mouse lines and cryopreservation of embryos and sperm.
Our barrier transgenic facility maintains a specific pathogen free (SPF) health status, housing gene modified mice in individually ventilated cage (IVC) systems that are serviced by intensively trained and skilled animal care staff. Embryos (e.g. micromanipulated, to revitalise or from imported mouse lines) are transferred under strict sterile conditions into pseudopregnant foster mothers inside this barrier. Serology testing of selected animals is systematically completed to confirm their health status. After germline transmitters have been identified the investigators will only then become responsible for breeding and analysing their mouse lines under strict compliance to the German Law.
We are supporting and promoting the 3Rs principles of human experimental techniques by striving to develop and implement new technologies, as for example: establishing new ways to make precise and targeted changes to the genome, using the CRISPR/Cas editing system, increasing the efficiency of various assisted reproduction technology methods or minimizing pain by replacing injection anaesthesia with inhalational anaesthesia.
We welcome any opportunity to promote design, knowledge and experience to help to attain the research goals of the investigators.
---
Selected Publications
Fundamental parameters of the developing thymic epithelium in the mouse.
Science Reports 8, 11095.
Trimethylation and Acetylation of β-Catenin at Lysine 49 Represent Key Elements in ESC Pluripotency.
Cell Reports 18, 2815-2824.
TT2016 meeting report on the 13th Transgenic Technology meeting in Prague, Czech Republic.
Transgenic Research 25, 553-559.
Nuclear reprogramming: kinetics of cell cycle and metabolic progression as determinants of success.
PLoS One 7(4), e35322.
Igf1r signaling is indispensable for preimplantation development and is activated via a novel function of E-cadherin.
PLoS Genetics 8(3), e1002609.