Pint of Science 2019
Science goes to the pub.
For the second time, Freiburg joined the worldwide "Pint of Science" community in 2019, which spans 24 countries and already includes nine cities in Germany. Researchers of the MPI-IE, together with colleagues from the clinic and university, organized the world's most unusual science festival in the pubs in Freiburg.
Pint of Science is maybe the most unusual science festival on the planet. The idea is simple: down-to-earth talks by scientists will engage discussion on a broad range of topics – while having the chance of sip-ping a good pint of beer. The idea for Pint of Science was born in the UK by two scientists at the Imperial College. After the first event in only a handful of pubs in the UK in 2013, it quickly took off and "Pint of Science" community now spreads over nearly 400 cities worldwide.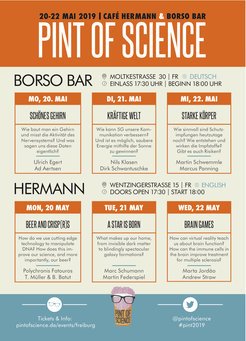 After its successful debut in 2018 at the "Goldener Sternen", Pint of Science took place held for the second time in Freiburg in May 2019. The organisers from the Max Planck Institute in Freiburg were supported by collegs from the University and University Hospital and thus the programme could be extended to two venues: more science, more pubs, more audience.
Part of the program were science from the Mit dabei waren Wissenschaftlerinnen und Wissenschaftler vom Fraunhofer Institute for Solar Energy Systems ISE, the Uniclinic, the University and the MPI of Immunoiology and Epigenetics.
The topcis presented to an international audience in the Café Hermann and the Borso Bar ranged from "Beer is alive. How to use beer for scientific outreach?", "Photovoltaik, wie wir die Elektroautos der Zukunft mit Licht tanken können" and "What changes in the brain during inflammation?" as well as vaccination and CRISPR/Cas9.