TriRhena Chromatin & Transcription Club
The "Chromatin Club" is a one-day symposium that unites the chromatin, epigenetics and transcription groups at three research institutions for biomedical research on a tri-annual basis:
Institute of Genetics and Molecular and Cellular Biology (IGBMC, Strasbourg, France),
Friedrich Miescher Institute for Biomedical Research (FMI, Basel, Switzerland)
MPI of Immunobiology and Epigenetics (MPI-IE, Freiburg, Germany)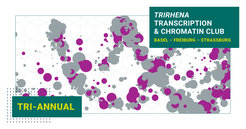 The event has an intimate interactive atmosphere with typically 100-120 participants from the TriRhena region. Each Chromatin Club is dedicated to own topics and features external keynote speakers from around the world who are leading expertis in the chromatin and transcription fields. Besides external keynote speakers, PhD students and Postdocs will present near finished but unpublished work from groups of each of the institutes. With an informal but high-quality character of the meeting we are aiming at fostering discussion and inspiring new collaborations within the Tri-rhena area.
Former Chromatin Clubs