Team
Lab Lämmermann
Group Leader Tim Lämmermann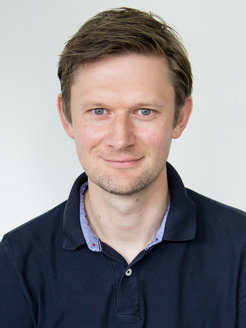 Tim Lämmermann studied Molecular Medicine at the Friedrich-Alexander-University, Erlangen-Nuremberg, Germany and the Lund University, Sweden from 1999 till 2004. He performed his doctoral studies at the Max Planck Institute of Biochemistry in Martinsried, Germany, and received his doctoral degree from the Ludwig-Maximilians Universität München in 2009. His doctoral thesis about the role of adhesion receptors and cytoskeletal forces during immune cell migration (2009) was awarded with the Otto-Westphal-Promotionspreis by the German Society for Immunology (DGfI).
He then took a Postdoc position at the National Institute of Allergy and Infectious Diseases in Bethesda, USA. There he worked on the mechanisms of neutrophil swarming during infection and disease in the Laboratory of Systems Biology. The Robert Koch Foundation recognized this work and awarded it with the Robert-Koch Postdoctoral Award 2014.
Since January 2015 Tim Lämmermann is heading the Max Planck Research Group "Immune Cell Dynamics" at the MPI of Immunobiology and Epigenetics in Freiburg. In 2016, the European Research Council (ERC) decided to support Tim Lämmermann's research with one of the prestigious ERC Starting Grants.
Qualifications and history
Undergraduate Studies in Molecular Medicine at University Erlangen-Nürnberg, Germany
2004-2009 PhD studies at the Max Planck Institute of Biochemistry, Martinsried, Germany
2009-2014 Postdoctoral fellow at the National Institutes of Health, National Institute of Allergy and Infectious Diseases, LSB, Bethesda, USA
Since January 2015 Group leader at the Max Planck Institute of Immunobiology and Epigenetics, Freiburg, Germany
Alumnae & Alumni
Name
Position
Current Affiliation
Elisa Nent
Postdoc
Miltenyi Biotec,
Bergisch Gladbach, Germany
Korbinian Kiele
PhD student
Roche, Basel, Switzerland
Alina Gavrilova
Technical Assistant
Novartis, Basel, Switzerland
Petra Wirth
Technical Assistant
Stefanie Wissmann
M.Sc.
Université de Fribourg, Switzerland
Matthias Trumpp
M.Sc.
Universitätsklinikum Leipzig,
Germany
Frauke Hormann
M.Sc.
Reaction Biology, Freiburg, Germany
Jan Rath
B.Sc.
Université de Lausanne, Switzerland