Thomas Jenuwein elected international member of the American Academy
Max Planck director and epigeneticist honoured by the American Academy of Arts and Sciences
Thomas Jenuwein, director at the Max Planck Institute of Immunobiology and Epigenetics, Freiburg has been appointed an international honorary member of the American Academy of Arts and Sciences. He is one of 42 foreign members (non-US citizens) who was elected this year. Each year, the renowned Academy celebrates excellence by honoring researchers, leaders, artists, and innovators and engages them in sharing knowledge and addressing some of the most important challenges facing the world.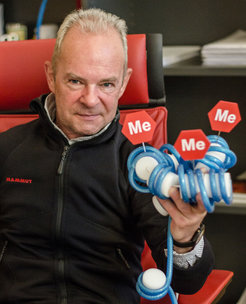 Today the American Academy of Arts and Sciences (AAAS) announced the election of its new members for 2019. This year, more than 200 individuals with compelling achievements in academia, business, government, and public affairs have been elected to the Academy. Amongst them is Thomas Jenuwein, epigeneticist and director at the Max Planck Institute of Immunobiology and Epigenetics in Freiburg, Germany (MPI-IE). He joins a group of 42 international honorary members from 23 countries who have been honored for upholding "the ideals of research and scholarship, creativity and imagination, intellectual exchange and civil discourse, and the relentless pursuit of knowledge in all its forms," said David W. Oxtoby, the president of the American Academy of Arts and Sciences.
The new members of the Academy were elected in 25 categories. Thomas Jenuwein was elected in the category of "Biological Sciences" and is one of the four new German members elected this year. "I'm very pleased to receive this award. It is a great honor to be a member of the AAAS, as this also entails additional creativity to elucidate the molecular basis of heterochromatin," says Thomas Jenuwein.
The research of Thomas Jenuwein focuses on chromatin which is the physiological template of our genetic information, the DNA double helix. Chromatin can adopt distinct structures that either allow gene activity (euchromatin) or repress gene activity (heterochromatin). In seminal discoveries Thomas Jenuwein and his team identified the first histone lysine methyltransferase (SUV39H1) and defined a biochemical pathway for the formation and propagation of heterochromatin. These landmark findings revolutionized chromatin research and opened the field for the functional dissection of epigenetic control.
These insights are far-reaching for both basic and applied research, as they allow a better understanding of gene regulation, cell type differentiation and reprogramming and provide new forms of therapy for complex human disease, including cancer. They are further relevant for mechanistic insights into how gene regulation can respond to changes from the environment and then transmit epigenetic adaptations and testify that 'we are more than the sum of our genes'.
Founded in 1780, the Academy honors excellence and convenes leaders from every field of human endeavor to examine new ideas, address challenges facing the world, and work together to cultivating knowledge that advances free, virtuous, and independent people. Former members were George Washington, Benjamin Franklin, Charles Darwin, Albert Einstein, Winston Churchill, and Martin Luther King, Jr. Currently, the Academy lists 5,700 members based across the United States and around the world including more than 250 Nobel laureates. Thomas Jenuwein is the third member of the faculty of the MPI in Freiburg who was elected by the Academy. He follows founding director Otto Westphal (1975) and director Davor Solter (1994).
The 2019 class includes prominent individuals from fields of science, politics, the arts, business, and public affairs such as artist Mark Bradford, gender theorist Judith Butler, author Jonathan Franzen, cell biologist Jennifer Lippincott-Schwartz and former First Lady Michelle L. R. Obama.
The new class will be inducted at a ceremony in Cambridge, Massachusetts, USA in October 2019.
CV: Thomas Jenuwein
Thomas Jenuwein born in Lohr am Main, Germany, studied Molecular Biology at the University of Erlangen and the University of Heidelberg. In 1987, he graduated from the European Molecular Biology Laboratory (EMBL) and performed his postdoctoral studies at the University of California San Francisco (UCSF), USA. From 1993 to 2008, Thomas Jenuwein was an independent group leader at the Institute of Molecular Pathology (IMP) in Vienna. Since 2008, he is a director at the Max Planck Institute of Immunobiology and Epigenetics in Freiburg, Germany where he heads the department of Epigenetics. Thomas Jenuwein is a member of several learned societies such as the European Molecular Biology Organization (EMBO), Academia Europaea and the Austrian Academy of Sciences. He was awarded an Honorary Professorship at the University of Vienna in 2003, the Sir Hans Krebs Medal of the FEBS society in 2005 and the Erwin Schrödinger Prize by the Austrian Academy of Sciences in 2007.