Ibrahim Cissé named Carnegie "Great Immigrant"
Max Planck Director honored as one of 2022's Great US Immigrants by the Carnegie Corporation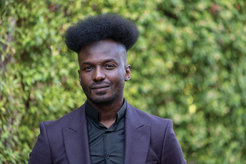 Ibrahim Cissé, Director at the MPI of Immunobiology and Epigenetics has been named to the Carnegie Corporation of New York's 2022 list of "Great Immigrants, Great Americans." These 34 naturalized U.S. citizens are noted as individuals "whose contributions and actions have enriched and strengthened American society".
The Carnegie Coroporation highlights the work of immigrants each year who have been leaders in their communities through their work in education, the arts, public service, healthcare, and small business ownership as well as advocacy for education equity, climate change, food security. The individuals of 2022 Class of "Great Immigrants" stem from 32 countries and a wide range of backgrounds including other experts from research and education as well as celebrities such as tennis star Steffi Graf (Germany) and musician Neil Young (Canada).
Born in Niger, Ibrahim Cissé moved to the USA when he was 17. He took English classes for two months, going on to earn a BS in physics at North Carolina Central University and a PhD in physics at the University of Illinois at Urbana-Champaign. He began his further career as a postdoctoral fellow at École Normale Supérieure de Paris in France from 2010 to 2012.
Research fueled by compassion for problem-solving
When he returned to the USA, Cissé undertook research leadership positions at the Massachusetts Institute of Technology (MIT) and the California Institute of Technology (Caltech). In 2021, he was appointed Max Planck Director in Freiburg, Germany.
His stunning career marked by broad recognition and accomplishment is fueled by compassion for solving complicated problems with creative solutions. He refined imaging tools to make individual molecules inside living cells visible and study their behavior. In particular, he studies RNA polymerase II (Pol II) molecule that is crucial for transcribing genetic information from the DNA into mRNA to make proteins.
His newly established Department for Biological Physics combines physical, chemical, and biological approaches to enhance super-resolution microscopy's capabilities and deepen the understanding of how gene regulation and expression produce proteins in cells.
Learn more about Ibrahim Cissés career
About "Great Immigrants" by Carnegie Corporation of New York
The Great Immigrants initiative is a tribute to the legacy of Andrew Carnegie, a Scottish immigrant who rose from poverty to become a leading US American industrialist. Carnegie founded more than 20 philanthropic organizations, including Carnegie Corporation of New York, a grantmaking foundation established in 1911 to advance the causes of democracy, education and international peace. As part of the public awareness campaign, the corporation has honored more than 700 outstanding immigrants whose stories can be viewed through its online database. The 2022 honorees mark the 17th class, who will be recognized with a full-page public service announcement in the New York Times on the Fourth of July.
About Ibrahim Cissé
Ibrahim Cissé was born in Niger and completed his PhD in physics at the University of Illinois at Urbana-Champaign (USA) in 2009. After a postdoctoral stay at the École Normale Supérieure of Paris (France), Cissé returned to the USA in 2013 to become a Research Specialist at Howard Hughes Medical Institute's Janelia Research Campus in Ashburn, Virginia. In 2014, he moved to the Massachusetts Institute of Technology in Boston, where he was first an assistant professor of Physics and then promoted to associate professor in the Department of Physics with a joint appointment in biology. Ibrahim Cissé joined the MPI of Immunobiology and Epigenetics in Freiburg in 2021 from the California Institute of Technology in Pasadena (USA) where he was appointed Professor of Physics. In Freiburg, he is head of the Department of Biological Physics. Ibrahim Cissé is the recipient of several awards, including recently the 2021 Vilcek Prize for Creative Promise in Biomedical Science as well as a MacArthur Fellowship (2021) and a fellowship by the American Physical Society (2021).