SFB/CRC992 Symposium on Medical Epigenetics
Meeting
Start:

Mar 18, 2024

End:

Mar 20, 2024

Location:

Freiburg

Room:

Otto-Krayer-Haus

Host:

SFB/CRC992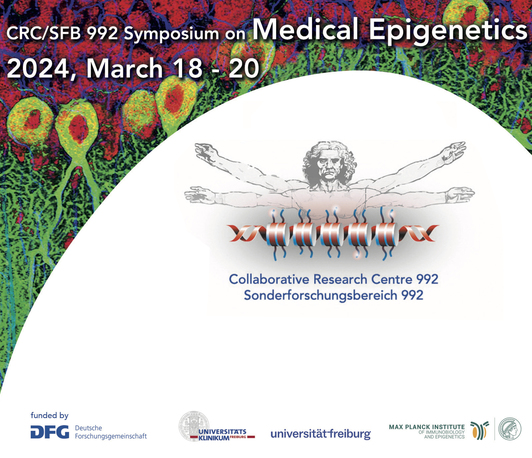 The symposium by the CRC992 Medical Epigenetics is free of charge, however, registration is required. Early-career scientists are especially encouraged to submit an abstract for the poster session.
The CRC 992 "Medical Epigenetics" is a research consortium in Freiburg (Germany) that conducts epigenetic research with a translational focus. Teams from the University and the University Medical Center, as well as from the Max Planck Institute of Immunobiology and Epigenetics are collaborating in projects ranging from basic research to clinical evaluation of novel therapeutic concepts.
The CRC992 organizes the symposium that brings together experts from the field of epigenetics, chromatin, clincial epigenetics, cancer, drug development,hematology The program includes 28 talks by international speakers (see poster), several talks selected from submitted abstracts and a poster session.

Get all details on the conference poster or on the conference website.

Registration already open (until February 9, 2024)!
Confirmed speakers
Asifa Akhtar (Freiburg)
Tugce Aktas (Berlin)
Scott Armstrong (Boston, MA)
Sebastian Arnold (Freiburg)
Mark Bedford (Houston, TX)
Elisabeth Binder (Munich)
Katherine B. Chiappinelli (Washington DC)
Alessio Ciulli (Dundee, UK)
Ken Figueroa (Miami, FL)
Christian Flotho (Freiburg)
Jolanta Grembecka (Ann Arbor, MI)
Nicola Iovino (Freiburg)
Thomas Jenuwein (Freiburg)
Jian Jin (New York, NY)
Manfred Jung (Freiburg)
Michael Lübbert (Freiburg)
Isabelle Mansuy (Zurich, CH)
Christoph Plass (Heidelberg)
Sebastian Preissl (Freiburg)
Anne Schaefer (Cologne)
Dirk Schübeler (Basel, CH)
Roland Schüle (Freiburg)
Yonatan Stelzer (Rehovot, IL)
Marc Timmers (Freiburg)
Nadine Vastenhouw (Lausanne, CH)
Olalla Vazquez (Marburg)