Zukunftstag 2020
Career orientation at the Zukunftstag 2020 at the Max Planck Institute of Immunobiology and Epigenetics (MPI-IE) as part of the nationwide Girls' Day initiative. In 2020, one month earlier due to the Easter holidays: On 26.03.2020, we again invite interested young people to get to know the exciting world of molecular biology as well as the profession of a researcher.
Please note: Unfortunately, the Zukunftstag (Girls' Day) 2020 has to be cancelled due to the current corona developments. More information.
You are attending 9th till 12th grade, and you have a great interest in science, especially in modern biology? Then come to visit our institute in Freiburg on March 26th, 2020. The Max Planck Institute of Immunobiology prepared an exciting program for the Zukunftstag 2020, that brings you in touch with our scientists and shows how we work.
Key topics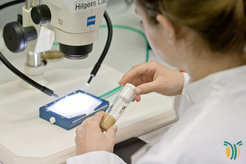 To learn more about research topics – immunobiology and epigenetics – and to understand how we explore them, use our exciting program. In addition to smaller lectures about the institute and the work of a researcher in various fields of modern biology (DNA sequencing, bioinformatics), there will also be lab visits to look over the shoulder of the scientists (flies, microscopy). But of course, you also have the chance to experiment for yourself. Have you ever done a DNA extraction? No? Then it is time. In our DNA kitchen, we show you how to extract DNA from various fruits and vegetables and how scientists isolate the DNA of bacteria. Further, you will meet our DNA specialists of our DeepSeq-Unit, work on our microscopes with our Imaging-Team, and visit our flies.
So if you are not afraid of complicated but also exciting biological knowledge and your thumbs are fit to pipette, then register now for the Zukunftstag 2020 at the Max Planck Institute in Freiburg.
Overview (preliminary)
Time in HH:MM
Activity
9:00 - 9:30

Welcome, overview about the institute and the program of the day


Marcus Rockoff (Public relations)
9:30 - 11:15

Lab time! (Part 1)


Group 1:


Imaging


Group 2:


How many stripes has a fly? The Fly facility of the MPI-IE

11:20 - 12:00

"DNA & Proteins

12:00 - 12:45

Lunch

12:45 - 14:50
(incl. break)
Lab time! (Part 2)
DNA Lab!
How to analyze DNA? Workshop on DNA extraction & plasmid preparation
14:50 - 15:00

Closing Event


questions, certificates, photos
Team
The program will be presented in German language. More information on our German website.