Having a family…
Are you coming to Freiburg with your family or planning to start a family? The MPI of Immunobiology and Epigenetics provides comprehensive information and support related to school enrollment for children, arranging daycare, information about our family support services as well as having a baby in Freiburg. Our administration and the International Office work hand in hand to help your during this exciting but also intimidating time.
Our Welcome Guide offers a large chapter for international families and young scientists covering basic health-related, organizational and financial aspects and introduces you to topics such as maternity records, maternity protection, parental allowance, maternal and parental leave and more. With it you will learn many necessary things you need to know in case of pregnancy and birth.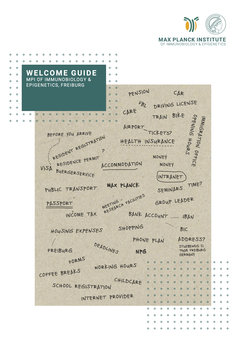 Content overview of the MPI-IE Welcome Guide chapter for international families (p. 69-90):
Family services by the MPI-IE & MPG
Having a baby

Medical aspects (such as prenatal care, maternity records, finding a hospital and midwife, postnatal care)
Organizational aspects (such as birth certificate, maternity leave, parental leave)
Financial aspects (child benefit, maternity benefit, parental allowance, tax and children)

Daycare in Freiburg
Schooling in Freiburg
Leisure time & holiday program for kids and families
Please contact our International Officer to get access to the MPI-IE Welcome Guide.