Nina Cabezas-Wallscheid named EMBO Young Investigator
Freiburg stem cell researcher honored as one of Europe's top young researchers in the life sciences
Nina Cabezas-Wallscheid, research group leader at the Max Planck Institute of Immunobiology and Epigenetics, has been selected for the "EMBO Young Investigator Programme". The prestigious program by the European Molecular Biology Organization (EMBO) exclusively supports 26 young scientists who have demonstrated their ability to pursue research at the highest level in recent years.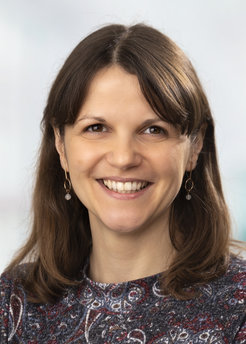 The European Molecular Biology Organization (EMBO) announced that 26 life scientists have been selected as EMBO Young Investigators in 2021. Among them is Nina Cabezas-Wallscheid, a research group leader at the Max Planck Institute of Immunobiology and Epigenetics. The EMBO Young Investigator Programme is designed to support scientists by smoothing the transition between setting up their first independently led laboratory and establishing a successful profile in the scientific community. Thus, the specialist for hematopoietic stem cells and her Freiburg team will benefit from networking opportunities, mentorship programs, professional training, and a financial award of €15,000, including possible additional funding, to support research in the lab.

"I am absolutely thrilled to have been selected as a member of the EMBO Young Investigator Programme. Joining this outstanding community of scientists offers great opportunities to collaborate and share ideas with top researchers from all across Europe," says Nina Cabezas-Wallscheid.

The research in Nina Cabezas-Wallscheid's lab focuses on the molecular and functional properties of hematopoietic stem cells (HSCs). This rare cell type is the foundation of the blood system and gives rise to every cell type found in the blood, including all kinds of leukocytes for fighting off pathogens and erythrocytes for transferring oxygen to tissues. In her lab, Nina Cabezas-Wallscheid combines various technologies such as metabolomics and epigenomics with in vivo and in vitro functional approaches to investigate the mechanisms governing stem cell and progenitor cell fate.

Of particular interest for Nina Cabezas-Wallscheid is the unique lifelong potential of HSCs to supply the blood system with fresh blood cells. "These exceptional capabilities are protected by a very deep state of quiescence, in which HSCs remain if they are not needed. We want to understand the regulatory networks involved in maintaining hematopoietic stem cell dormancy and, as an ultimate goal, translate our findings to targeted therapies for human diseases such as cancer", says Nina Cabezas-Wallscheid.

About the EMBO Young Investigator Programme
EMBO Young Investigators are outstanding young researchers who have established their first laboratories in the past four years. They will join the existing network of 130 current and 368 former EMBO Young Investigators. Program members are supported by the European Molecular Biology Organization (EMBO), an organization of more than 1,800 leading researchers that promotes excellence in the life sciences, via a range of benefits to advance their careers in the next four years. For example, they can take advantage of various training programs and gain access to core facilities at the European Molecular Biology Laboratory (EMBL). In addition, they receive an award of €15,000 and possible additional funds of up to €10,000 per year to support the establishment of their laboratories.
CV
Nina Cabezas-Wallscheid studied biotechnology (MSc) at the Autonomous University of Barcelona, Spain, and the University of Parma, Italy. She earned a PhD in the study of AML1-ETO, a subtype of acute myeloid leukemia (AML), at the University Medical Center of the Johannes Gutenberg University of Mainz, Germany, under the supervision of Ernesto Bockamp. There, Nina Cabezas-Wallscheid showed the evolution of transcriptional landscapes and the establishment of cancer stem cell hierarchies based on a novel mouse model. During her PhD, she also visited the laboratory of David Scadden as a guest scientist at the Harvard Stem Cell Institute in Boston, USA.

Nina Cabezas-Wallscheid performed her postdoctoral fellowship in the Division of Stem Cells and Cancer under the mentorship of Andreas Trumpp at the German Cancer Research Center (DKFZ) in Heidelberg, Germany. There, she focused her research on identifying regulatory networks in the adult HSC and multipotent compartment, as well as investigating factors controlling HSC dormancy. In 2017, Nina Cabezas-Wallscheid was appointed as a group leader at the Max Planck Institute of Immunobiology and Epigenetics in Freiburg. Nina Cabezas-Wallscheid is one of the emerging researchers supported by the European Research Council (ERC) through a prestigious ERC Starting Grant, which she received in 2017. One year later, she was honored with the GSCN 2018 Young Investigator Award from the German Stem Cell Network (GSCN). Nina Cabezas-Wallscheid actively participates in several research consortia such as the Cluster of Excellence at the University of Freiburg CIBSS, various Collaborative Research Conosortias funded by the DFG (CRC992, CRC1425, CRC1479) and ARCH (H2020-MSCA-ITN).