In the eye of the swarm
Max Planck immunologist Tim Lämmermann receives funding by the Chan Zuckerberg Initiative (CZI) to study immune cell swarming
Neutrophils belong to the first immune cells that travel from the blood to sites of infection or injury. They form characteristic cell swarms in tissues and eliminate the spread of invading pathogens. Max Planck group leader Tim Lämmermann and biochemist Eduardo Reategui from the Ohio State University (USA) now receive funding by the Chan Zuckerberg Initiative (CZI) to study the cellular and molecular mechanisms that regulate neutrophil swarming during the onset and the resolution of inflammation. The interdisciplinary team will combine novel lab-on-a-chip techniques with advanced imaging methods to provide an unprecedented level of insight into the inner-working mechanisms of the innate immune system. The two-year pilot project is supported with $350.000.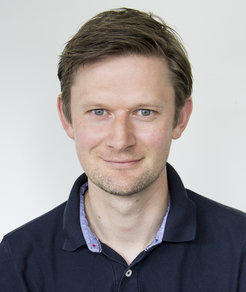 A small cut in the finger and after a few minutes a swelling and redness becomes notable. The tissue becomes inflamed. Already at this stage, countless immune cells have set out to the site of infection to confine harmful intruders and protect our health.
Such an acute inflammation relies mainly on cells of the innate immune response such as neutrophils, monocytes, and macrophages that neutralize pathogens and restore the sterility of the tissue.
Tim Lämmermann, group leader at the MPI-IE, is investigating innate immune cells and how they interact with each other to shape an effective immune response in inflamed and infected tissues. He now receives, together with collaborator Eduardo Reategui from Ohio State University (USA), funding from the Chan Zuckerberg Initiative (CZI) to study the molecular mechanisms of so-called neutrophil swarms.
Decipher swarming immune cells
Neutrophils circulate in our blood and serve as the first line of immune defense. After arriving at the site of infection, they scan the tissue for foreign invaders and eliminate the spread of the invading pathogens by ingesting the microbes.
"We recently discovered that neutrophils communicate with each other to form very coordinated and self-organized cell swarms in tissues, which allows neutrophils to fight the infection jointly and more efficiently," says Tim Lämmermann. In this new project supported by CZI with $350.000, the researchers seek to unravel the molecular pathways regulating this swarm behavior.
With a combination of cutting edge technologies such as two-photon intravital microscopy, novel swarming-on-a-chip and advanced metabolomics methods the collaborators want to identify the cellular and molecular drivers that orchestrate neutrophil swarming during the onset and resolution phase of inflammation.
Best of both worlds
By this combination of novel technologies, the scientists hope to significantly expand our understanding of the swarming mechanisms at the single-cell and molecular level. "Based on our initial work on neutrophil swarms in mouse tissues, our collaborating partner with expertise in bioengineering has developed an innovative swarming-on-a-chip platform that can mimic aspects of neutrophil swarming. Fabrication and testing of this novel technique provides the basis for our biological work to test human and mouse neutrophils with advanced imaging methods, including the validation of identified novel pathways in physiological tissues," explains Tim Lämmermann.
A better understanding of the molecular processes that initiate, drive, and orchestrate neutrophil swarms could help to understand their contribution during chronic or acute inflammation and will open new avenues for the therapeutic strategies for various inflammatory and autoimmune diseases such as asthma, arthritis, and heart disease.
CV Tim Lämmermann
Tim Lämmermann studied Molecular Medicine at the Friedrich-Alexander-University, Erlangen-Nuremberg, Germany and the Lund University, Sweden from 1999 till 2004. He performed his doctoral studies at the Max Planck Institute of Biochemistry in Martinsried, Germany, and received his doctoral degree from the Ludwig-Maximilians Universität München in 2009. His doctoral thesis about the role of adhesion receptors and cytoskeletal forces during immune cell migration (2009) was awarded with the Otto-Westphal-Promotionspreis by the German Society for Immunology (DGfI). He then took a Postdoc position at the National Institute of Allergy and Infectious Diseases in Bethesda, USA. There he worked on the mechanisms of neutrophil swarming during infection and disease in the Laboratory of Systems Biology. The Robert Koch Foundation recognized this work and awarded it with the Robert-Koch Postdoctoral Award 2014. Since January 2015 Tim Lämmermann is heading the Max Planck Research Group "Immune Cell Dynamics" at the MPI of Immunobiology and Epigenetics in Freiburg, Germany. In 2016, the European Research Council (ERC) decided to support Tim Lämmermann's research with one of the prestigious ERC Starting Grants.
About the Chan Zuckerberg Initiative
Founded by Dr. Priscilla Chan and Mark Zuckerberg in 2015, the Chan Zuckerberg Initiative (CZI) is a new kind of philanthropy that's leveraging technology to help solve some of the world's toughest challenges – from eradicating disease, to improving education, to reforming the criminal justice system. Across three core Initiative focus areas of Science, Education, and Justice & Opportunity, we're pairing engineering with grant-making, impact investing, and policy and advocacy work to help build an inclusive, just and healthy future for everyone. For more information, please visit www.chanzuckerberg.com
The current grant program will support 29 interdisciplinary teams and build a network of researchers that will explore emerging ideas regarding the role of inflammation in disease. CZI will support these small teams to carry out two-year pilot projects focused on tissue-level inflammatory processes in diverse tissues and disease states. Several researchers are studying coronaviruses like SARS and MERS. Pilot awards are intended to help new collaborations form, establish technologies and experimental methods, and frame key questions for further investigation.