Max Planck Director elected
2021 APS Fellow
Ibrahim Cissé selected as Fellow of the American Physical Society
The Max Planck biophysicist Ibrahim Cissé receives a big honor from the American Physical Society (APS). He became a 2021 Fellow of the renowned scientific society. The APS honors its members with the designation Fellow for having made significant accomplishments to the field of physics. Ibrahim Cissé is recognized for his outstanding scientific contributions to visualize and understand the physical mechanisms governing gene expression.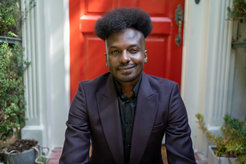 Ibrahim Cissé, Director at the MPI of Immunobiology and Epigenetics, has been elected as an American Physical Society Fellow of 2021. He was nominated by the APS Division of Biological Physics (DBIO) for "elucidating the physical mechanisms governing RNA transcription by employing high-resolution visualization of gene expression in living mammalian cells to understand cell fate decisions."
"My group members and myself, we are all so delighted and honored by this recognition from fellow physics colleagues at APS. The research we do requires us to constantly push the frontiers of our knowledge in physics as well as in biology. We are excited to continue to be actively involved in the APS, and through our biological physics department at the Max Planck Institute in Freiburg," says Ibrahim Cissé on being named as APS fellow 2021.
Cissé who recently established the new Department of Biological Physics at the MPI of Immunobiology and Epigenetics in Freiburg develops super-resolution microscopy techniques to understand biophysical processes at a single-molecular scale.
With the so-called time-correlated Photoactivated Localization Microscopy (tcPALM), he and his team can capture the fast dynamics that happen when a cell copies genes from the DNA into mRNA. Of particular interest in this so-called transcription process are the molecules of the RNA polymerase II (Pol II).
How clusters of RNA polymerase regulate RNA production
With the help of an approach informed by physics, biology and chemistry, the Cissé labs wants to understand physical mechanisms utilized by Pol II and revealed that the molecules not only form clusters around genes that are being transcribed. Moreover, he and his team recently showed that the proteins involved join via a phenomenon called liquid-liquid phase separation, in which molecules interact in our cells and form different compartments without making use of membranes.
These findings not only demonstrated how exactly the cell produces RNA, but also provided important insights into the general principles of how single molecules interact with each other in the cell.
The fellowship is one of the highest levels of professional recognition conferred by American Physical Society (APS) and by their professional peers. It signifies recognition for outstanding contributions to physics. Since 1921 this award has been given to those who may have made advances in physics through original research and publication, or made significant innovative contributions in the application of physics to science and technology. They may also have made relevant contributions to the teaching of physics or service and participation in the activities of the APS.
Each year, no more than one half of one percent of its currently 55,000 members may be elected to the status of fellow.
About Ibrahim Cissé
Ibrahim Cissé was born in Niger and completed his PhD in physics at the University of Illinois at Urbana-Champaign (USA) in 2009. After a postdoctoral stay at the École Normale Supérieure of Paris (France), Cissé returned to the USA in 2013 to become a Research Specialist at Howard Hughes Medical Institute's Janelia Research Campus in Ashburn, Virginia. In 2014, he moved to the Massachusetts Institute of Technology in Boston, where he was first an assistant professor of Physics and then promoted to associate professor in the Department of Physics with a joint appointment in biology. Ibrahim Cissé joined the MPI of Immunobiology and Epigenetics in Freiburg in 2021 from the California Institute of Technology in Pasadena (USA) where he was appointed Professor of Physics. In Freiburg, he is head of the Department of Biological Physics. Ibrahim Cissé is the recipient of several scientific awards, including just recently the 2021 Vilcek Prize for Creative Promise in Biomedical Science and the 2021 MacArthur Fellowship.
About the American Physical Society
The American Physical Society (APS) is a nonprofit membership organization working to advance and diffuse the knowledge of physics through its outstanding research journals, scientific meetings, and education, outreach, advocacy, and international activities. APS represents over 55,000 members, including physicists in academia, national laboratories, and industry in the United States and throughout the world. To learn more about the Fellowship program and view the complete list of the 2021 APS Fellows and their citations, visit the APS Fellow Archive.