Transgenic Mouse Core Facility
Scope: Generation of genetically modified mice
It has taken us millions of years to discover that the genome can be artificially modified but only a few dozen of years to develop and refine the necessary methods for manipulating it almost at desire! With the recent completion of the human and mouse genome, the mouse has become an organism of choice for modeling genetically linked human diseases that can only be studied in intact organisms and have considerably assisted in studying the complexities of mammalian development and cell differentiation.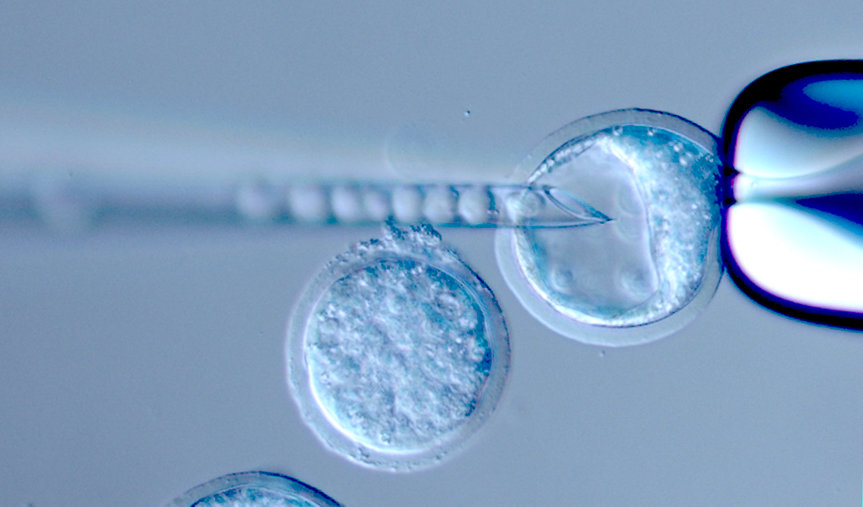 Zoom Image
Stem cell extraction from a mouse blastocyst.
Stem cell extraction from a mouse blastocyst.
© Benoit Kanzler/MPI-IE
© Benoit Kanzler/MPI-IE
The Transgenic Mouse Unit of the Max-Planck Institute of Immunology and Epigenetics has been established in 1995 to enable the successful and efficient generation of genetically modified mice, thus allowing the scientific investigators to focus their research efforts on biological rather than technological aspects. We strive to provide cutting-edge transgenic and gene-targeting technology, in both a time effective and cost efficient manner. New mouse lines are generated either by transgenesis (via pronuclear microinjection of specific DNA constructs into fertilized oocytes) or targeted mutagenesis (via microinjection of embryonic stem (ES) cells into blastocysts or 8-cell stage embryos, as well as via diploid or tetraploid ES/morulas aggregations), e.g. "knockouts" or conditional mutants.
Our barrier facility maintains a specific pathogen free (SPF) health status, housing gene modified mice in ventilated cage systems (IVCs) that are serviced by intensively trained and skilled animal care staff. Microinjected embryos are reimplanted under strict sterile conditions into pseudopregnant foster mothers inside this barrier. Serology testing of selected animals is systematically completed to confirm their health status, thus allowing the transfer of the transgenic founders or positive gene targeted offspring to other areas of the Animal House for further breeding and analysis. After germline transmitters have been identified the investigators become responsible for breeding and analysis of mouse lines in compliance with the German law.