Team
Lab Jenuwein
Group Leader Thomas Jenuwein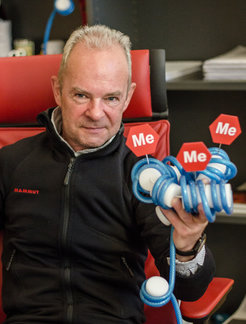 Thomas Jenuwein received his Ph.D. in molecular biology in 1987 from the EMBL, working on fos oncogenes in the laboratory of Rolf Müller and the University of Heidelberg and performed postdoctoral studies (1987-1993) on the immunoglobulin heavy chain (IgH) enhancer with Rudolf Grosschedl at the University of California San Francisco (UCSF).
As an independent group leader (1993-2002) and then as a senior scientist (2002-2008) at the Research Institute of Molecular Pathology (IMP) in Vienna, he focused his research to chromatin regulation. Through this work, he and his team discovered the first histone lysine methyltransferase (KMT) that was published in 2000.
He is currently director at the Max Planck Institute of Immunobiology and Epigenetics in Freiburg, Germany where he heads the Department of Epigenetics. From 2004 to 2009, he coordinated the EU-funded network of excellence 'The Epigenome', which connected more than 80 laboratories in Europe. Jenuwein is also co-editor of the first textbook on 'Epigenetics' that was published by Cold Spring Harbor Laboratory Press in 2007 and 2015. He is an ambassador for the dissemination of Science and is actively engaged with public lectures and radio and TV documentations to inform lay audiences about 'Epigenetics'.
Qualifications and history
1956 Born in Lohr am Main, undergraduate studies of Biology at University Erlangen and University Heidelberg, Germany
1983-1987 Ph.D. studies at EMBL, Heidelberg, Germany
1988-1993 Postdoctoral fellow at UCSF, San Francisco, USA
1993-2001 Group leader at the Institute of Molecular Pathology (IMP), Vienna, Austria
2002-2008 Senior Scientist at the Institute of Molecular Pathology (IMP), Vienna, Austria
Since 2008 Director at Max Planck Institute of Immunobiology and Epigenetics, Freiburg, Germany
2012-2014 & since 2021 Managing Director at Max Planck Institute of Immunobiology and Epigenetics, Freiburg, Germany