ERC Grants
As a testament to the scientific excellence of the MPI of Immunobiology and Epigenetics, researchers have been able to attract significant competitive funding by the European Union. The European Research Council supported more than ten projects at the institute.
The European Research Council (ERC) supports top researchers in the advancement of basic research and visionary projects and the development of new interdisciplinary fields of knowledge. The ERC is a public body established by the European Commission for funding of scientific and technological research conducted within the European Union.
The funding lines include the ERC Starting Grant for junior researchers awarded their doctoral degree between two and seven years ago, the ERC Consolidator Grant for researchers who have held their doctorate between seven and twelve years, and the ERC Advanced Grant for outstanding, established researchers.
Researchers of the MPI of Immunobiology and Epigenetics have successfully competed for funding sources of the ERC including nine ERC Starting Grants, one ERC Consolidator Grant, and two ERC Advanced Grants have been assigned to MPI-IE researcher.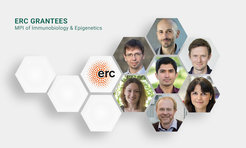 Advanced Grants
Consolidator Grants
Starting Grants
EpiGeneSys

EpiGeneSys was active as an FP7 European Community-funded Network of Excellence from 2010 to 2016, with the aim of building a bridge between two areas of European excellence, epigenetics and systems biology. The network has established a framework to catalyse interdisciplinary exchanges and training, as well as to foster the sharing of tools, resources and knowledge. EpiGeneSys has advanced research by drawing together epigeneticists and systems biologists to elucidate epigenetic mechanisms in development and disease. Learn more about the result of the network's research program.
Investigators: Asifas Akhtar (also Deputy Coordinator), Thomas Jenuwein, Andrew Pospisilik
🔴 = Project completed