2021 Trainee Award
The lab technician Kathrin Ganter at the Max Planck Institute in Freiburg receives the 2021 MPG trainee award
Following her successful training as a biology lab technician at the Max Planck Institute of Immunobiology and Epigenetics (MPI-IE), Kathrin Ganter receives the Trainee Award by the Max Planck Society for her outstanding professional and personal development. Congratulations!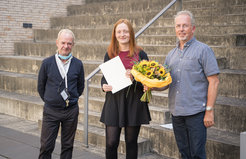 The Max Planck Trainee Award recognizes outstanding trainees in the more than 80 institutes of the MPG who have distinguished themselves through exceptional achievements. Amongst the award winners in 2021 is Kathrin Ganter, who completed an apprenticeship as a laboratory technician at the MPI-IE in Freiburg.
The award represents the conclusion of a successful professional and personal journey that began at the institute in 2018. Prospective biology lab assistants, like Kathrin Ganter, start their training at the MPI directly in the lab. In addition, a unique rotation system provides the possibility to get to know up to five different research groups and their topics.
Basic research during training
"That can be very challenging. The variety of research topics at the institute means that our trainees come into contact with numerous experimental techniques and model organisms at an early stage," says Herbert Holz, head of training for laboratory professions at the institute.
At the institute, research questions have a broad scope, including topics such as the role of chromatin in gene regulation in fly, mice and human, the swarming behavior of innate immune cells or the metabolic networks of immune cell organelles. As a result, the trainees quickly become experts in PCRs, gel electrophoresis or cell cultures. And very often they become important members of the respective research groups. However, according to training manager Holz, curiosity, enjoying experimentation, and, above all, patience are important skills for practical work in basic research.
"After graduating from high school, I decided against university in favor of an apprenticeship. Of course, I was super interested in doing mere practical work. But also, earning my own money for the first time made me take this decision and come to Max Planck," says Kathrin Ganter.
But trainees can not get through vocational training completely without studying either. The training in the Max Planck laboratory is combined with lessons at a vocational school to teach the theoretical basics in topics such as "stoichiometry," "biotechnology," or "pharmacology". "Kathrin has really developed greatly during her time at the institute. Not only did she gain comprehensive knowledge and presented an excellent school performance. Her personal development and commitment further justify the award," emphasizes instructor Holz.
During a small ceremony, Thomas Jenuwein, currently Managing Director at MPI-IE, presented the award certificate endowed with 750 euros in prize money on behalf of the MPG President Martin Stratmann.
Kathrin has already made plans for the future and in the end decided to study after all. In the fall, she will begin to study biotechnology near Freiburg.
The Max Planck Trainee Award
Since 2007, the MPG Trainee Award has been awarded annually to up to twenty trainees in the 86 Max Planck Institutes throughout Germany. In previous years, successful trainees of the institute have been honored by the MPG: Laura Kramps in 2014, Theresa Cimentepe in 2017 as well as Jule Friehs and Sophia Bares in 2019. In addition to doctoral training in the scientific field (IMPRS-IEM), the MPI-IE offers four training occupations. These range from office management, animal care (research and clinic), IT for systems integration to biology laboratory assistants.