New member of the Leopoldina
The Freiburg Max Planck Director Asifa Akhtar has been appointed as a member of the National Academy of Science Leopoldina
Asifa Akhtar, Director at the Max Planck Institute of Immunobiology and Epigenetics in Freiburg, is a new member of the German National Academy of Sciences Leopoldina. With this appointment the academy honours Asifa Akhtar's scientific achievements in the field of chromatin regulation and epigenetics. Election to the Leopoldina is regarded as one of the highest scientific honours awarded by a German institution.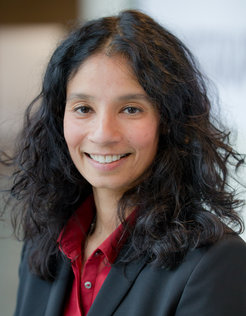 The Leopoldina was founded over 350 years ago, making it one of the oldest science academies in the world. German poet Johann Wolfgang von Goethe, Albert Einstein and Marie Curie are perhaps the most famous members of the Leopoldina. Every year new scientists are elected to the Academy by the Presidium on the recommendation of Academy members in a multi-stage selection procedure. All new elected members are distinguished by their extraordinary contributions to advancing their field of research, earning them admission to the circle of about 1500 members in this important scientific-medical scholarly society.
"It is a great honor to be elected and I am very much looking forward to be an active member of the academy", says Asifa Akhtar. Together with her team, she is investigating chromatin and epigenetic-based mechanisms underlying gene regulation. She focuses on molecules that alter the packaging of DNA, and thus play an important role in controlling the activity of genes. Studies carried out in her lab have provided important insights into the molecular basis of X chromosome regulation and detailed how several molecular complexes enable cells to correctly read genes and control the level of gene expression.
Her lab's recent endeavors have uncovered exciting new molecular links between epigenetics and metabolism. Future work in the lab will explore how cell state and intra-cellular communication guide this crosstalk in both health and disease. The broader importance of the basic research carried out in the Akhtar lab was recently brought to the fore by discovery of a human syndrome caused by mutation in an epigenetic regulator and one of the lab's main proteins of interest. The syndrome is marked by severe developmental delay and neurological dysfunction. The lab's ground-breaking work on the molecular characterization this human syndrome paves the way for better understanding and eventually amelioration of the condition.
The German National Academy of Sciences Leopoldina
The Leopoldina is one of the oldest science academies in the world. Since its foundation in 1652, it is committed to the advancement of free science, benefit of humankind and shaping a common future. With a base of about 1500 members, the Leopoldina unites the forces of outstanding scientists from Germany, Austria, Switzerland and numerous other countries. The Leopoldina was appointed the German National Academy of Sciences in 2008. In this capacity, it represents the German scientific community in international committees and assumes a nonpartisan scientific position on social and political issues. Interdisciplinary groups of experts are formed by the Leopoldina and other German, European and international academies to develop and publish official statements on issues of current interest. The Leopoldina furthermore promotes scientific and public debate, supports young scientists, confers awards for scientific achievements, conducts research projects, and campaigns for the human rights of persecuted scientists. (Source: Leopoldina).
After founding director Otto Westphal (1961), Nobel Prize winner Georges F. Köhler (1985) and Thomas Boehm (2002), Asifa Akhtar is now the fourth scientific member of the Institute to be appointed to the Academy.
CV: Asifa Akhtar
Asifa Akhtar obtained her Bachelor degree in Biology at University College London (UCL), UK, in 1993 and her Ph.D. in 1998 at the Imperial Cancer Research Fund in London, studying transcriptional regulation in Richard Treisman's laboratory. She continued in the field of chromatin regulation as a postdoctoral fellow in Peter Becker's laboratory at the European Molecular Biology Laboratory (EMBL), Heidelberg, Germany, and the Adolf Butenandt Institute, Munich, Germany. In 2001, Asifa Akhtar became group leader at EMBL. In 2009, she moved her laboratory to the Max Planck Institute of Immunobiology and Epigenetics, Freiburg, Germany (MPI-IE). In 2013, she was appointed Director at the MPI-IE, heading the department of chromatin regulation. Asifa Akhtar received the European Life Science Organization (ELSO) award for significant contribution in the field in 2008 and was elected as an EMBO member in 2013. In 2017, she was awarded the Wilhelm Feldberg Prize for outstanding contribution in the field. She serves as evaluator for many research and funding organizations (e.g. MPG, DFG, EU), editor of well-recognized scientific journals (e.g. eLife, PLoS Genetics, Journal of Cell Science) and actively participates in several local and international research consortia (e.g. CRC746, CRC992 MEDEP, CRC1140 KIDGEM, CRC1381, FP7 network EpiGeneSys).