2021 International Day of Women and Girls in Science
Beyond the Borders: Equality in Science & Society
February 11 is the International Day of Women and Girls in Science, a day to celebrate female scientists' great achievements in history and the present. But it is also a day to make aware that "a significant gender gap has persisted throughout the years at all levels of science, technology, engineering and mathematics (STEM) disciplines all over the world", as the United Nations puts it.
But outstanding and innovative discoveries need diversity and different perspectives to achieve scientific excellence that is more important than ever. Significantly, the ongoing pandemic highlights the crucial role of science in finding solutions to or understanding current challenges – be it vaccines, medical care and treatment, infectious disease modeling, or science communication.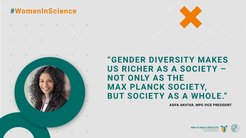 However, if we look at the numbers, we have almost equal numbers of men and women at the student level or Ph.D. level. But if we go up the hierarchy, women are still underrepresented in science. The reasons for this are still manifold: subconscious patterns of thought, stereotypes, and structural barriers in the scientific system. These challenges need to be addressed to make it less difficult for women to succeed in science.
On the 2021 International Day of Women and Girls in Science, we celebrate our current female staff members who make our institute such an outstanding place. And we raise awareness for our former staff members who set out all over the world having successful careers in academia or industry.
A few of them are highlighted on our social media channels today – let their research profiles, their publication lists, their social media profiles and their successes speak for themselves. #womeninscience #womeninstem
#WomenInScience – @AsifaAkhtar1 – First female director of @mpi_ie, first female VP of the biomedical section @maxplanckpress, extremely successful scientist working in #chromatin regulation and recently honored with @dfg Leibniz Prize. #RoleModel pic.twitter.com/L1PNAY9LbF

— MPI-IE Freiburg (@mpi_ie) February 11, 2021
Read the entire twitter thread: ⚡️ "2021 International Day of Women & Girls in Science"